Family prayer is a powerful way to draw your family closer together and closer to God. When you pray together as a family, you invite God's presence into your home and relationships. Family prayer quotes can inspire and encourage prayer to be a consistent habit.
This post will share heartwarming family prayer quotes from the Bible, Christian leaders, and more. You'll find short prayers you can pray with your family and quotes on the importance of praying together. Our hope is that these will inspire you to start a habit of family prayer.
What is Family Prayer?
Before diving into motivational quotes, let's define family prayer. Family prayer is setting aside intentional time to pray together as a family unit. This goes beyond just saying grace at mealtimes, although that's a great start.
Dedicated prayer time provides space to share gratitude, make requests known to God, read Scripture together, and more. It deepens family relationships as you come together for a spiritual purpose.
Family prayer can take many forms. You may gather in the living room, around the dinner table, or kneel together by your beds. The time of day doesn't matter either – whatever works for your family! The key is consistency. When family prayer becomes routine, the benefits will overflow.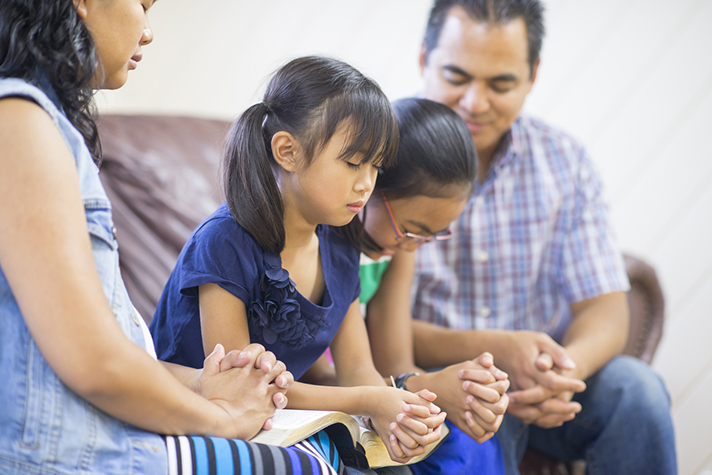 Benefits of Family Prayer
Why is family prayer so impactful? Here are some of the blessings that flow from praying together:
Deepened relationships:

Sharing your hearts in prayer builds intimacy and understanding between family members. You get a glimpse into each other's struggles and gratitude.

Passing on faith:

Prayer is a natural way to share your spiritual beliefs and values with children. It's a legacy you can pass down to future generations.

Alignment around God:

Praying together orients your family around God at the center. You surrender your plans to His purposes.

Protection and guidance:

God promises to watch over those who seek Him. Family prayer invites His hedge of protection and opens you to His guidance.

Growth in faith:

Consistent prayer strengthens your

individual faith

as well as your collective faith. As you see God answer prayers, your trust in Him grows.

More joy and peace:

Studies show that praying families report higher levels of satisfaction and emotional health. God's peace and joy flow through prayer.
With benefits like these, it's easy to see how family prayer can completely transform family life. If it's not already a habit in your home, we hope these quotes will provide some motivation to start!
Read more: 10 Prayer for seizures
Bible Verses about Family Prayer
God's Word contains many truths that point to the value of praying together as a family. Here are some Bible verses about family prayer to meditate on:
"Pour out your heart before him; God is a refuge for us." Psalm 62:8
"If my people who are called by my name humble themselves, and pray and seek my face and turn from their wicked ways, then I will hear from heaven and will forgive their sin and heal their land." 2 Chronicles 7:14
"Again I say to you, if two of you agree on earth about anything they ask, it will be done for them by my Father in heaven." Matthew 18:19
"But when you pray, go into your room and shut the door and pray to your Father who is in secret. And your Father who sees in secret will reward you." Matthew 6:6
"And whatever you ask in prayer, you will receive, if you have faith." Matthew 21:22
These verses demonstrate God's heart to hear our prayers, especially when we pray in unity and faith as a family. He rewards those who diligently seek Him, and prayer opens the door to His blessings.
Short Prayers for Family
One struggle families face is knowing what to pray about together. It helps when you build a catalog of short, simple prayers to pray together. Here are some short prayer examples to get you started:
"God, thank you for another day together as a family. Help us build each other up and live for you. In Jesus' name, amen."

"Lord, bless the work of each family member today. Give us the strength and wisdom we need. Keep us safe. We love you, amen."

"We invite your Holy Spirit into this home, Lord. Fill us with your peace, joy, and love. Make our family a light for you. In your name, we pray, amen."

"Thank you, God, for the gift of family. Help us to love and forgive one another as you love and forgive us. Amen."

"Lord, watch over our family. Heal those who are sick, guide those who are lost, and comfort those who are sad or lonely. Thank you for your goodness. Amen."
Keep these short prayers on the fridge, whiteboard, or phone so they are handy for quick family prayer sessions. Tweak them or add your own!
20 Heartwarming Family Prayer Quotes
Now that we've covered some basics about family prayer, let's look at some inspirational quotes. Here are 20 heartwarming family prayer quotes to spark a passion for praying together:
On Making Prayer a Priority
"Family prayer is the greatest deterrent to sin, and hence the most beneficent provider of joy and happiness. The old saying is yet true: 'The family that prays together stays together.'" – Thomas S. Monson
"With the influences of evil that surround our children, can we even imagine sending them out in the morning without kneeling and humbly asking together for the Lord's protection? Or closing the day without kneeling together and acknowledging our accountability before Him and our thankfulness for His blessings? Brothers and sisters, we need to have family prayer." – Neil L. Andersen
On Prayer Changing Us
"Prayer does change things, all kinds of things. But the most important thing it changes is us." – R.C. Sproul
"Prayer is the mortar that holds our house together." – Mother Teresa
On Passing Down Faith Through Prayer
"There is nothing more important than parents passing on a generational legacy of faith and values to their children." – James Dobson
"Each family prayer, each episode of family scripture study, and each family home evening is a brushstroke on the canvas of our souls. No one event may appear to be very impressive or memorable. But just as the yellow and gold and brown strokes of paint complement each other and produce an impressive masterpiece, so our consistency in doing seemingly small things can lead to significant spiritual results." – David A. Bednar
On the Power of Prayer
"Through personal prayer, through family prayer, by trusting in God with faith, nothing wavering, we can call down to our rescue His mighty power." – Thomas S. Monson
"We can change the course of events if we go to our knees in believing prayer." – Evangelist Billy Graham
On the Nature of Prayer
"Prayer is not the answer. God is the answer. Prayer is the vehicle by which we reach God." – Pastor Greg Laurie
"To be a Christian without prayer is no more possible than to be alive without breathing." – Martin Luther
On Family Unity
"The people are united, and they all speak the same language. After this, nothing they set out to do will be impossible for them!" Genesis 11:6 NLT
"If my people who are called by my name humble themselves, and pray and seek my face and turn from their wicked ways, then I will hear from heaven and will forgive their sin and heal their land." 2 Chronicles 7:14
On Leading Family Prayer
"Know this: God's delays are not necessarily His denials. So keep praying." – Pastor Greg Laurie
"I would suggest a return to the old-fashioned practice of family prayer." – A prominent judge when asked how to reduce crime in society
Which of these motivational quotes stands out to you? Let them soak into your heart and inspire you to pray together. Your family is worth fighting for, and prayer is one of your greatest weapons!
What is a Good Prayer for Family?
When starting family prayer, it helps to have some sample prayers to guide you. Here are some simple, good prayers you can pray together:
A Prayer for Family Unity
"Lord, we come before you as a family. We thank you for each person here. Help us to become united – willing to serve, encourage, and forgive one another. Soften our hearts toward you and one another. Give us joy. In Jesus' Name, Amen."
A Prayer for Provision
"God, we look to you as provider for this family. Thank you for [provide specific examples of God's provision]. Continue to supply all of our needs. Help us to seek you first each day. In your Son's name we pray, Amen."
A Prayer for Health
"Lord, we bring the health needs of our family to you now. Heal those who are sick. Give strength during times of weakness. Grant health to bodies, minds, and souls. With you, all things are possible. Amen."
A Prayer for Guidance and Wisdom
"Father, we need your daily guidance and wisdom for the decisions before us as a family. Help us to consider your will above our own. Guard us from poor choices. Reveal your path for our lives. In Jesus' Name, Amen."
Use these as a launch pad, then personalize prayers for your family's specific needs. Prayer guides us into God's purposes when we surrender our will to Him.
What is the Best Family Prayer Quote?
Choosing the single best prayer quote is difficult because they all offer beautiful inspiration. However, this quote from Mother Teresa stands out for encompassing the heart of family prayer:
"Let us love one another as God loves each one of us. And where does this love begin? In our own home. How does it begin? By praying together."
This reminds us that love is the foundation of family. Prayer together plants seeds of love that change how family members treat each other. It connects us to the infinite love God has for each of us.
When we pray together consistently, love takes a deeper root in our relationships. Walls crumble. Understanding grows. Patience and forgiveness become easier. Our family becomes a brighter reflection of God's affection for us.
No matter your circumstances at home, choose love. And let it begin by praying together.
What are Some Short Prayers for Families?
In addition to the short prayer examples provided earlier, here are three more very short prayers for family times:
"Lord, bless our family. Amen."

"We love you, God. Thank you for your unfailing love. Amen."

"Lead us today, Holy Spirit. Amen."
Keep these ultra-short prayers in your back pocket for days when you don't have much time or energy. You may pray one sentence together or meditatively repeat it a few times. God hears even the shortest cries of your heart!
How to Get Started with Family Prayer
If family prayer is not yet a consistent habit in your home, take heart! It's never too late to start. Begin where you are, even if it feels awkward at first. Here are some tips to get started:
Start small.

Don't aim for 30-60 minutes if that feels overwhelming. Even 5 minutes together makes a difference. Start with what you can maintain.

Find a consistent time.

Identify a time of day that works for gathering. Mornings, mealtimes, and bedtime tend to work well.

Make it a priority.

Schedule it on the calendar and protect that time from other activities.

Involve everyone.

Don't force it; invite spouses, kids, grandparents, etc. to join. Model it even if they don't engage at first.

Keep it simple.

Focus on Scripture reading, gratitude, and praying for needs. Let the conversation flow naturally, too.

Relax and have fun!

Don't be too rigid or formal. Laugh together and enjoy the gift of family.
The most important step is to start! God will meet you there and shape family prayer into what works best for you. Small steps of obedience make a big difference over time.
Frequently Asked Questions About Family Prayer
How do you encourage family prayer?
To encourage family prayer, highlight the benefits, lead by example, keep it short and consistent, and make it relational. Share stories of how God has answered past prayers. Make it about connection, not duty.
What should you not do during family prayer?
Avoid letting prayer time turn into lectures or long sermons. Don't shame or force your family to pray. Also, avoid vague, repetitive prayers that become mindless rituals. Keep it relational.
How long should family prayer be?
There's no perfect length for family prayer. Aim for 5-15 minutes for young families or busy schedules. Go longer as attention spans allow. Keep it short enough to maintain consistency but long enough to connect.
What if my family is not religious?
If your family is not religious, you can still pray together. Focus prayers on thanksgiving, blessings, and needs rather than religious language. Model it consistently and let them join as they feel comfortable.
How do you teach kids to pray?
Teach kids to pray by modeling short, conversational prayers. Help them build a vocabulary for prayer using simple phrases. Remind them that they can talk to God about anything. Keep it fun and engaging for their age level.
The most important step is to start praying together. God meets you there! Try a short prayer now to invite God's presence into your next family gathering.
In Conclusion
Family prayer is worth prioritizing, as its benefits extend now and for future generations. It all starts with a leap of faith and simple prayers. We hope these family prayer quotes have inspired you to nurture the habit of praying together.
God bless your family richly as you lean into Him. Please share this with others who need encouragement to pray together!

Let's spread the power of family prayer.